Well done Class 3, more great learning and fun had yesterday. I saw some brilliant book reviews, Leo and Nancy recorded theirs and lots of people did some amazing writing. In school, Annabelle did her review using Chatterkid, I'm sure you will agree it's fab!
If you enjoyed reading George's Marvellous Medicine, maybe you could read another Roald Dahl book, we are currently reading Charlie and the Chocolate Factory and I know Leo has been reading Danny the Champion of the world.
It looked like you enjoyed the art task. We enjoyed it in school even if making the foil figures was a little tricky, we did cheat a little though!
A big shout out to Freddie who made not one, not two but ten figures! He then names them all and played with them – fab idea Fred!
Remember to keep your little figure safe because we are going to use them again in another Art lesson real soon.
Today's Challenges
As I explained on Monday, we are going to base the rest of our week on activities linked to VE Day. On Friday, VE Day represents 75 years since the end of World War Two in Europe, a very important part of History.
For today, tomorrow and Friday, I am going to give you lots of suggestions of activities for you to choose. The only activity I would definitely like you to try is the first on the list, the rest of the list, you can choose which to complete. Over the next few days you may wish to do one activity, two or as many as you like. I hope you have some fun doing them. I have tried to make them fun! Remember to post photos to seesaw so I can share them tomorrow.
Please complete this activity….
Just like 75 years ago, we are making History right now and maybe in the future Lockdown 2020 and the Coronavirus will be studied in school. Can you write a diary entry to document this time in History. How do you feel? What have you been doing? What has life been like?
We hope to create a display of diary entries in school to document this time. We might even bury some of them in a time capsule to be dug up in many years to come! Please upload your diary entries to seesaw so they can be printed when we are back at school. If you are struggling with ideas, I have uploaded some templates to seesaw.
Activities to choose….(click on blue links for more info)
English – Phonetic Alphabet The phonetic alphabet that was used in RAF transmissions during the war. Learn to spell your name using the phonetic alphabet e.g. Ted = Tango Echo Delta. Can you pretend to send some messages using walkie-talkies and the phonetic alphabet?
Morse Code – Morse code is a communication system that represents the alphabet and numbers with a series of dots, dashes or a combination of both as shown here. Watch this video to find out more about Morse Code. Can you write a secret coded message for your family to crack? Post your message on seesaw and I will share it for others to solve.
Music – VE Day Songs – Try and learn the Horrible Histories VE Day song (click on the link) and perform it to your family. It is really funny!!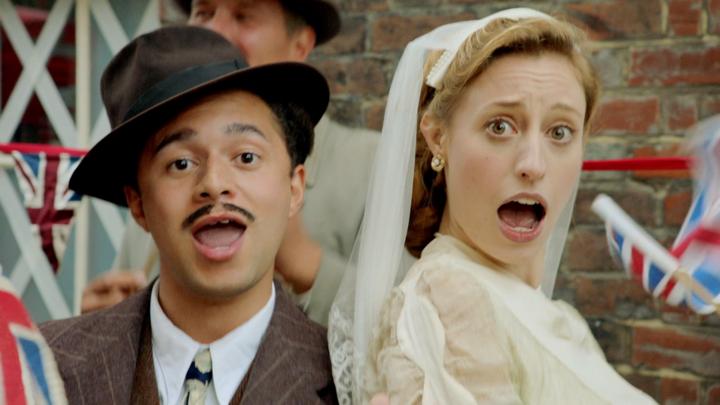 History- Winston Churchill – Who was Winston Churchill? Why do we remember him today? Produce a fact file/ poster displaying your information about him. What was his job? Why was he so important during WW2? What was one of his famous phrases? Can you describe his characteristics? Why he was important? This link may be useful to help you Ducksters.
Geography – Many countries were a part of World War II. Can you find out which countries were involved in World War Two? Can you label them on a map? There is a template on seesaw if needed.
Science – Parachutes – During the war parachutes were used by paratroopers, some were even accompanied by dogs. Can you design and make your own parachute using materials from around the house? Time how long it takes for your parachute to fall to the floor. You could hold it yourself or even ask an adult to help you drop it from a window, what could you use to make it fall faster or slower?
Design and Technology –Make, Do and Mend – During WW2, there was a shortage of materials to make clothes. People were urged to "Make, do and mend". Do you have any clothes or accessories that you could 'upcycle' into new a new outfit – maybe use one of dad's old shirts to make yourself an outfit or something of yours as an outfit for a teddy. Maybe you could have a fashion show of your new outfits. Remember to ask permission before cutting anything up! We tried this activity on Monday using some socks and had great fun…

Art – Can you design a VE day medal? Search the internet to look at other medals. What important words would you display on your medal? I have uploaded a template to seesaw if you need them.
Spitfires were some of the planes used during WW2. Can you design your own spitfire? Templates are on seesaw.
And finally…Be ready for Friday – 'Stay At Home' Street Party – Read this article on Newsround and look closely at the photographs. How did people celebrate in 1945? Plan your own 'stay at home' street party. Can you prepare for the party – what decorations can you make? Can you make some union jack bunting or a flag? Maybe you could make a Union Jack out of Lego! I have uploaded lots of different templates to seesaw for you to colour. You might want to even all dress in red, white and blue! Remember to post your photos of your party to seesaw!
Have a great day x